Enhancing Customer Experience Through Digital Spare Parts Portals
Explore how a digital spare parts portal can redefine your customer experience, reduce errors, and drive revenue growth.
In today's fast-paced manufacturing landscape, staying competitive requires not only producing top-notch products but also providing exceptional customer service throughout the product lifecycle.
One way to achieve this is by investing in a digital spare parts portal. In this blog post, we'll delve into how digitalizing the aftermarket experience can significantly enhance customer satisfaction and drive revenue growth.
Digitalizing the Aftermarket Experience
Traditionally, obtaining spare parts for maintenance and repair has been a time-consuming and often frustrating process. Customers and service technicians had to rely on printed catalogs, phone calls, or emails to place orders. This manual approach not only led to delays but also increased the risk of errors in the ordering process.
Digitalizing the aftermarket experience changes the game entirely. With a digital spare parts portal, manufacturers can provide their customers, dealers, and distributors with 24/7 access to spare parts catalogs and essential product information. This digital transformation streamlines the entire process, making it convenient, efficient, and error-free.
Discover how our customer Interspiro improved customer satisfaction and operational efficiency through digitalization. Read their story here.
Benefits of a Spare Parts Portal
Reduced Order Errors: By allowing customers to place orders digitally, the chances of errors are significantly reduced. Customers can access up-to-date catalogs and select the exact parts they need, eliminating the risk of ordering the wrong components.
Resource Optimization: With self-service capabilities, customers can find the information they need without relying on internal resources. This frees up your team to focus on more strategic tasks while customers find the answers they need independently.
Minimized Downtime: Quick access to spare parts ensures that maintenance and repairs are completed promptly. Reduced downtime translates into increased productivity and customer satisfaction.
Increased Revenue: When customers can easily order spare parts, they are more likely to invest in preventive maintenance, extending the lifespan of your products. Additionally, the convenience of a digital portal can attract new customers and generate more sales.
Solutions for the Aftermarket
Manufacturers can approach digitalizing the aftermarket experience in several ways, but here are three key approaches:
Spare Part Kits Portal: This option simplifies the process of ordering genuine spare part kits for scheduled service and maintenance. It's an excellent starting point for manufacturers looking to embark on their digitalization journey.
Full Spare Parts Catalog with ERP Integration: For more knowledgeable customers and field-services employees, a comprehensive catalog with ERP integration is ideal. It streamlines the spare parts ordering process and empowers users to find the right parts 24/7.
Personalized Spare Parts Portal with BOM Access: For the ultimate customer experience, consider offering a personalized portal with full access to Bill of Materials (BOM). This approach provides customers with a deep understanding of their individual machines, allowing for precise spare parts selection.
In conclusion, investing in a digital spare parts portal is a strategic move for manufacturers. It not only improves customer experiences but also offers numerous operational benefits, including cost savings and revenue growth. By embracing digitalization in the aftermarket, manufacturers can secure a competitive edge in today's dynamic marketplace.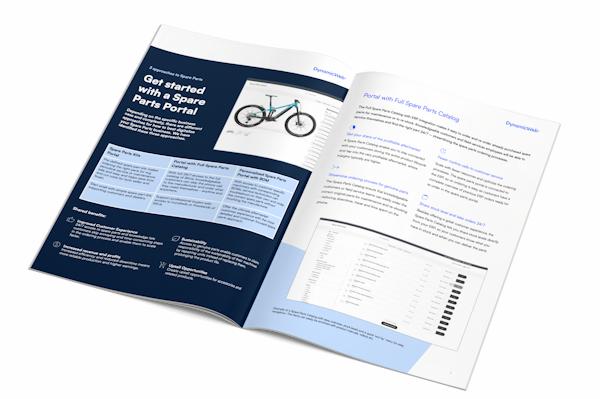 Dive deeper into this topic by downloading our comprehensive whitepaper titled Digitalizing the Aftermarket Experience.
In it, you'll find valuable insights about spare part portals, practical strategies to help you get started on the path to digital success.