Inside Sales Consultant (APAC)
You will be working with the best-in-class developers and market sales and we have a thoroughly scheduled onboarding plan ready to introduce you to some of the coolest colleagues!
Join the Sales team
You will be part of our internal business development team with colleagues in Denmark, Norway, Germany, and The Netherlands. Referring to a Team Lead in Singapore, your responsibility is to seek out new clients within your market and expand your portfolio by generating more leads to a growing Sales department.
Your responsibilities, your workday
Your primary responsibility is to contact and screen new potential customers by phone.
A regular workday starts by checking in with your colleagues and team leader, where you will share experiences, and jokes, and get guidance for continuous improvement.
Afterward, you will grab the phone and start qualifying new leads on your listen withdrawn from our CRM system.
This way you will become an expert in entering the dialogue with new customers, asking the right questions, and helping them to scale up their business by acquiring one of DynamicWeb eCommerce solutions. You will learn how to challenge and support business leaders in getting a competitive advantage within their field.
In short, you will:
Map customer's digital maturity.
Identify the right stakeholders and listen to understand their situation.
Be able to generate a range of possibilities for the customer in relation to the DynamicWeb toolbox.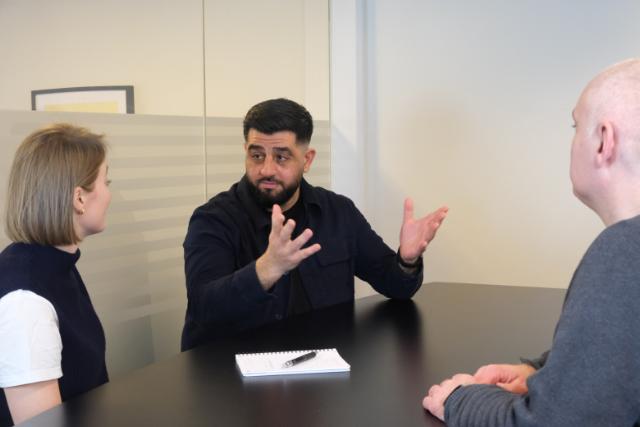 Your experience and competencies
We imagine you have a background in Marketing and Communication and 3 years of experience in Sales or Telemarketing. Most importantly, you are motivated to engage customers and excel in becoming a valued player within the sales organization. We will provide you with a digital upbringing and guarantee you will be a DynamicWeb evangelist within less than a month.
You need to:
Communicate convincingly in English.
Be an early adapter of IT and digital lingo.
Quickly identify business opportunities.
Your personality matters!
You are curious to become part of a fast-paced and international business, and you are looking for a role, where you can challenge yourself and make significant improvements. You will fit right in if you are:
A good listener and can handle 30 noes before you get a yes.
Proactive, resilient and enjoy a relaxed and humorous environment.
Have a drive and a high work ethic.

Most importantly, you are not afraid to just grab the phone and just get started.
What is it for you?
You will be able to challenge yourself, work with new cultures, and discover new ways of using your tech-skills.
You will be working with the best-in-class developers and market sales and we have a thoroughly scheduled onboarding plan ready to introduce you to some of the coolest colleagues. We like to keep things simple and have an informal structure with lots of laughs and events where you can get to know your teammates.
Our company
DynamicWeb offers an industry-recognized, cloud-based eCommerce Suite. We enable customers to deliver better digital customer experiences and to scale eCommerce success through ourContent Management,Digital Marketing, eCommerce, and Product Information Management solutions.
We are a software company building online platforms for the people behind eCommerce. DynamicWebs 200+ partners, 150+ employees in offices all around the globe are proud to support well over 4.000 brands. That is why you will be working closely with some of the best Product Managers, Software Developers, Sales, and Marketers because although we are 100+ employees, our mission is the same, making software simple and accessible.
Our HQ is in Aarhus, Denmark, but we have offices all over the world, and you will be working alongside colleagues in Europe, Asia, and the US.