Front End Developer, Intern (DK)
Would you like to be a key player in developing future websites for millions of us-ers? Can you work in a fail-fast and iterative product development, where you get to spare 20 experienced and relaxed colleagues?
Join the core development team
DynamicWeb is an ambitious international eCommerce provider based in Aarhus. You will become part of a development team, consisting of 20 programmers, product managers, and QA.
You will join two other Front Enders and a UX Designer in developing, designing, and maintaining our front end tool, Swift.
Being an Intern at DynamicWeb
The product is targeted for 3rd party developers who implement, integrate, and extend the software to fit their customers' needs. As an intern, you will help design and implement templates, user interfaces, and concepts.
You will learn how to make sure that the perceived experience, ease of use, features, etc. continually improves gradually. Primarily, you will:
Support the design of UI and UX with ideas and smaller task
Implement templates in Razor, HTML, CSS, JavaScript, and other front end technologies in the Swift implementation framework
Lean how to set up and implement various features, apps, and concepts for use in the Swift front end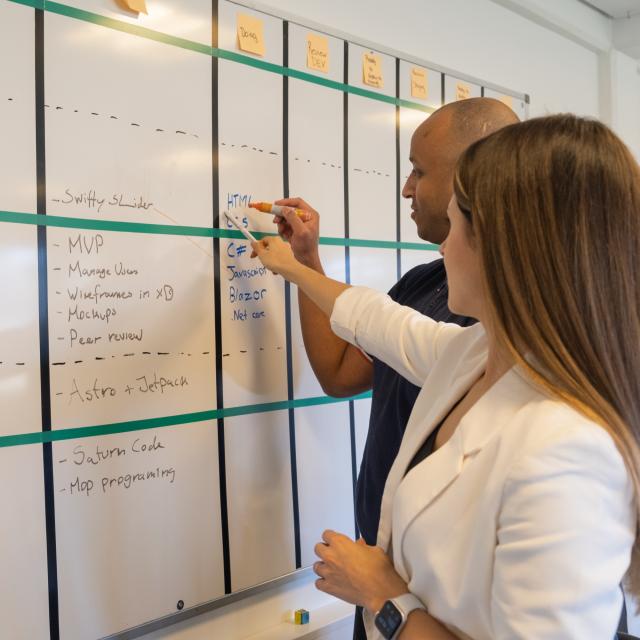 What to expect when joining us
With us, you can challenge the status quo and influence how we develop the next generation of CMS, eCommerce, and PIM systems.
We guarantee a steep learning curve, with your own tasks growing from small to big in your own pace. Of course, we got you covered with all the basics like lunch, health insurance, and a load of social events.
We have a thoroughly scheduled onboarding plan ready to introduce you to some of the coolest colleagues in Aarhus. We like to keep things simple and have an informal structure with lots of laughs and events where you can get to know your teammates. You'll experience a working environment that is flexible and informal.
We do eCommerce
DynamicWeb offers an industry-recognized, cloud-based Digital Platform. We enable customers to deliver better digital experiences through our Content Management, Digital Marketing, E-commerce, and Product Information Management solutions.
DynamicWeb's 300+ partners, and 150+ employees in offices all around the globe are proud to support well over 4.000 brands. You will be working from our HQ in Aarhus, Denmark.